Markers and Ceramics set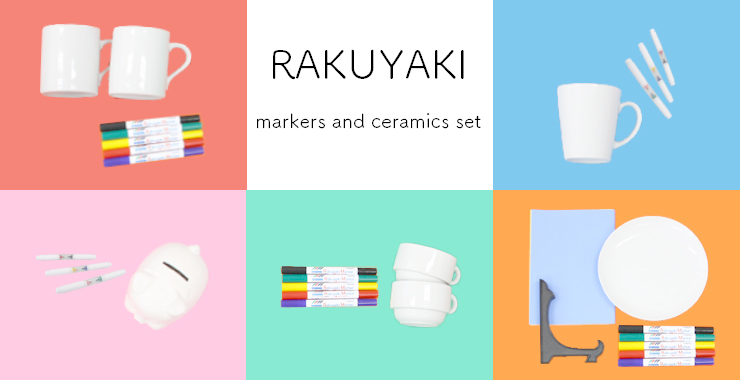 A simple and easy set for beginners, complete with markers and one or more ceramic items.
This contains everything you need to get started, freeing you from the necessity to find an item to paint yourself.
All ceramics items are also made in Japan, so you can feel assured about their quality and safety.
Beginner's set

First, try a plate, which is easy to paint. 

Also contains transfer paper, which you can print using your home printer.
A plate stand is included too, so you can display the finished item at home straight away.

 

Beginner's Mug set

Contains two mugs. 

For pair-presents for Mom and Dad, or Grandma and Grandpa. Or keep one and give one to that special person, so you can share the same set. 
 Mug marker set

A stylish mug with a slightly angular profile. 

Use the mini-markers included to draw a picture or write a message. 

 

Stucking mug marker set

A mug set that can be stacked away for handy storage. 

Why not try your own original design that makes use of the fact that these mugs can be stacked?

The perfect size for tea or coffee. 



*5 colored Ceramic markers is changed to 5 colored RAKUYAKI markers because of the discontinuation on August 30,2019.
Piggy bank marker set

An unusual, bright white piggy bank set. 
Add your own picture or message to increase your will to save multi-fold.
Why not give as a present to encourage someone to save?



*We revised the price on July 1st, 2019.

 
Make unique items simply, in 4 easy steps!
Lecture for making
Adult supervision is required when used by small children.
| | |
| --- | --- |
| Carefully remove dirt and oil by washing up or using something like a damp towel. | |

| | |
| --- | --- |
| Color in the design using your favorite colors! | |

| | |
| --- | --- |
| Use the times below for referrence in baking 392°F 25min 446°F 20min | |

(Preheat the oven to 392°F or 446°F)

Let cool for at least an hour and then your baking is all done!